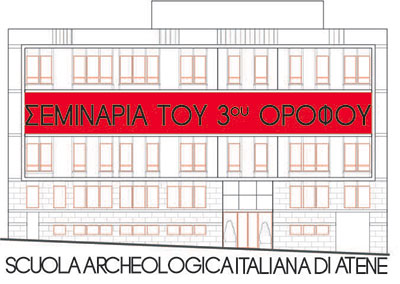 Topics presented fall within the wide-range of the Fellows' research interests and address in particular the themes of their own projects.
The talks are aimed at providing opportunity for debate and discussion.
Attendance of young scholars and students is particularly encouraged. However, the talks are open to everyone interested.
Up to 50 attendees will be admitted.
To participate, attendees must register by filling up the following form:
The seminars can also be followed online, via Zoom.
Please email us about 24 hours before each appointments at
---
2022 PROGRAMME
Wednesday 9/11/2022 - 5 p.m.

Dr. Adrien Delahaye
(École française d'Athènes)
"The Aegean sea, mother of all exchanges? Reflections about the actors of the distribution of Laconian pottery in the Aegean area"
Convenor Dr. Isabella Bossolino (Post-Doc IASA)

Monday 14/11/2022 - 5 p.m.

(Università degli Studi di Napoli "Federico II")
"Summoning and Voting Procedure in the Assembly, and the Stability of Fifth Century Athenian Democracy"
Convenor Dr. Cristina Carabillò (Post-Doc IASA)
Friday 25/11/2022 - 5 p.m.

(Hellenic Ministry of Culture and Sport - Ephorate of Antiquities of Achaia)
"A time to die. Shaping life and death through tombs and artifacts in EIA Stamna"
Convenor Dr. Giorgia Di Lorenzo (Post-Doc IASA)
Thursday 15/12/2022 - 5 p.m.

(National Hellenic Research Foundation - Institute of Historical Research)
"Navigating in the Cyclades of the Late Hellenistic and Roman period"
---